Crocs Nursing Shoes: A Guide To The Best Crocs For Nurses
Crocs are very popular in the world of nursing shoes because they are cheap, durable, easy to clean, and – of course – comfortable. Some people may not like their looks, but they more than make up for it in comfort.
Nowadays you see people wearing Crocs to the beach or the pool, but before hitting the everyday market, Crocs were originally designed for nurses. These clogs are made of a synthetic Croslite material that is extremely lightweight so it won't weigh you down, and they are odor resistant and easy to clean. Crocs come highly recommended for their roomy fit, making them a great option for nurses with wide feet.
Read on to see if a pair of nurse Crocs may be right for you!
This is by far the most popular model of Crocs, making this the number one choice on the list of best crocs for nurses. Theses shoes are incredibly comfortable, and you will not want to take these off when you get home. They also come in more than 26 different colors, so you can find one to suit your style.
This shoe has a back strap that keeps your feet in place with secure fit, or you have the option to remove it for a free-flowing feel. This is a perforated clog with textured trim and heel, and features a non-marking sole. This is the ultimate choice for wear-anywhere comfort. These shoes are also easy to clean and water-friendly – they even float!
This lined clog is available in whole sizes and medium width only. Because of the plush lining, t is simply the best comfort shoe you for those colder winter months. The Mammoth Clog removes seasonal wear from the equation. Just when you thought the Crocs brand had no room for improvement, they continue to deliver the "wow factor" over and over.
The fleece lining contours to every curve in your feet, providing you with pillow like comfort and keeping your feet warm during those cold winter days. These shoes are available in both black and white color options.
This Crocs nursing shoe style is different from most crocs in that it looks more like a regular sneaker. If you prefer the looks of a sneaker instead of a clog, this may be the shoe for you. These shoes feature a no-lace slip-on design, but they also include eyelets for you to add laces if you want a more secure fit.
These shoes tend to run a little small, so I suggest buying one size larger. These shoes were created with nurses in mind, and it is comfortable, durable and easy to clean.
This shoe branches out from the regular rubber style you have grown accustomed to with the Croc brand. This shoe is made of suede and features a full back for heal and anchor support. It also features a soft Nubuck trim and provides the same Croc comfort you have grown to love.
Its unique styling and standard Croc comfort is why it is on the list of best Crocs nursing shoes. This beautiful shoe comes in four color combinations, so you can mix and match to find the best option for your style.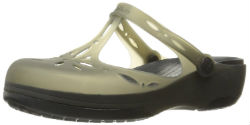 This style has a rear strap for heel support, which can be moved forward to give you a true clog appearance. This clog has a unique look, and does not conform to the traditional Crocs appearance – it looks much more sleek and stylish, much different than the clunky look of most Crocs.
The lattice cutouts provide for airflow and keep you feet cool and dry on the hottest days. This style comes in four fun colors, and once again, you should purchase a size larger than your regular shoe size.
Conclusion
Crocs are great options for nursing clogs and shoes. Their synthetic material makes them lightweight, slip-resistant, odor-resistant, and easy to clean. But the real selling point is their comfort. Crocs are so comfortable, you will wear them all day at work and keep them on while you are relaxing at home!
Unlike Dansko, another popular brand of clogs, Crocs are also affordable for nurses on a budget, so if you want, you can buy a few different types or colors of Crocs to match every style situation.
Check out this video about the material used in Crocs!
As you can see from this article, there is a Croc out there every nurse and every situation!
Product images sourced from Amazon.com
The post Crocs Nursing Shoes: A Guide To The Best Crocs For Nurses appeared first on Blogtrepreneur – For Busy Entrepreneurs.