What are the Best Cheap Hybrid Bikes?
By Andrew Simon
Just about anyone can use a hybrid bike. From children to grandparents, hybrids are appropriate for a wide variety of cycling purposes. Hybrids, the love child of mountain and road bikes, offer multi-tasking capabilities to all who wish to ride them. They're good for smooth or bumpy rides and offer an easy trip for those who choose bicycling to conquer their commute.
One of the first things you need to know about hybrid bikes is that there is a wide variety of them. There's a lot to choose from and without thorough research a hybrid bike could cost you anywhere from a few hundred dollars to a few thousand. Luckily, we've compiled a list of the best cheap hybrid bikes available on the market.
Whether you're looking for comfort, speed, versatility, durability or style, finding the
At the top of our affordable hybrid bikes list is the Kent Men's Avondale, an excellent quality hybrid bicycle for cyclists of any level. Generally renowned for its smooth ride and light frame, the Avondale is a great hybrid bike that won't break the bank.
Coming in at 39 pounds, with an all aluminum frame, it is one of the lightest low-cost hybrids available. If you are looking for something to use in the city, this bike is a great option. It has a Shimano Tourney rear derailleur, and offers 21 different speeds. The Linear Pull Aluminum (V-brakes) with Sure Stop One lever Anti-lock Braking System place an importance on safety and control unparalleled at this price point.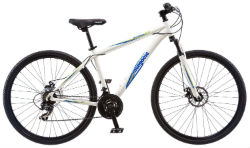 Coming in at second on our list is another highly regarded cheap hybrid bike is the Mongoose Men's Banish 2.0.
This bike's 43-pound aluminum frame, 21 speeds, and Shimano rear derailleur make it the perfect bike for a relaxing ride. It has highly responsive mechanical disc brakes that are efficient on all surfaces (including mud).
Whether you're heading down a bike path or going off-road, you can expect a comfortable ride on this great hybrid.
Schwinn hybrid bicycles are widely recognized for their value and affordability. They are one of the best hybrid bike brands on the market.
Made from aluminum, the Schwinn Discover Men's Hybrid comes in at a whopping 46 pounds. Although it's great for riding around the city, this bike's weight makes taking the road less-paved a breeze. The Schwinn Discover has the 21 speeds so popular in hybrids along with a Shimano rear derailleur and Promax alloy linear pull breaks.
On top of its high quality components that make it a multi-functional hybrid, all Schwinn bikes come with a lifetime warranty.
Hybrid bikes were created with stability and comfort in mind. The Diamondback Kalamar Complete Hybrid offers its riders exactly those features.
Weighing a strong 44 pounds, it has a steel frame and sporty style. While many hybrid bicycles have the typical aluminum frame, the steel of the Diamondback helps dampen the bumps and shocks so commonly experienced on a commute.
This bike also has Shimano rear and front derailleurs that offer 21 speeds and help get you from A to B in comfort.
Last on our list, but certainly not least, is the Giordano RS700. If you're looking for the best value hybrid bike, look no further than this awesome hyrbid. It is one of the least expensive and lightest bikes on this list.
The RS700 has 21 gear speeds with Shimano shifting, an aluminum frame, and wide, flat handlebars. All up it weighs a mere 38.75 pounds. This beautiful bicycle comes with 700c wheels, suited for both road and trail riding.
Light and strong, it is the perfect hybrid bike to be seen in while commuting into the city or just cruising around.
Conclusion
With this list featuring the market's most affordable hybrid bikes, you'll be able to find the best hybrid bicycle for the money in no time. And why wouldn't you want to join the party? Cycling has been fitness nuts' preferred method of transportation for many years, and for good reason. It's fun, good for you, and good for the environment.
Commuting and exercising are great for keeping our bodies and our pockets healthy. Purchasing a hybrid bicycle is a great investment for you and the environment. If you're looking for quality cheap hybrid bikes, these are five great options that won't leave you broke.
Product images sourced from Amazon.com
The post What are the Best Cheap Hybrid Bikes? appeared first on Blogtrepreneur – For Busy Entrepreneurs.